Getting to know BDSM starts with a movie "Fifty Shades"
I don't think 50 Shades is true S&M, the one positive thing I can say about the whole Fifty Shades of Grey phenomenon is that it has brought S&M out of the shadows. and I also think Fifty Shades helped erase the stigma that was previously attached to hard-core erotica and popularize niche sexual fetishes involving bondage, blindfolds and nipple clamps, bringing them into the commercial and cultural mainstream. The movie also had a huge cultural impact, in allowing women to feel like it's OK to be more sexually adventurous, and open about it.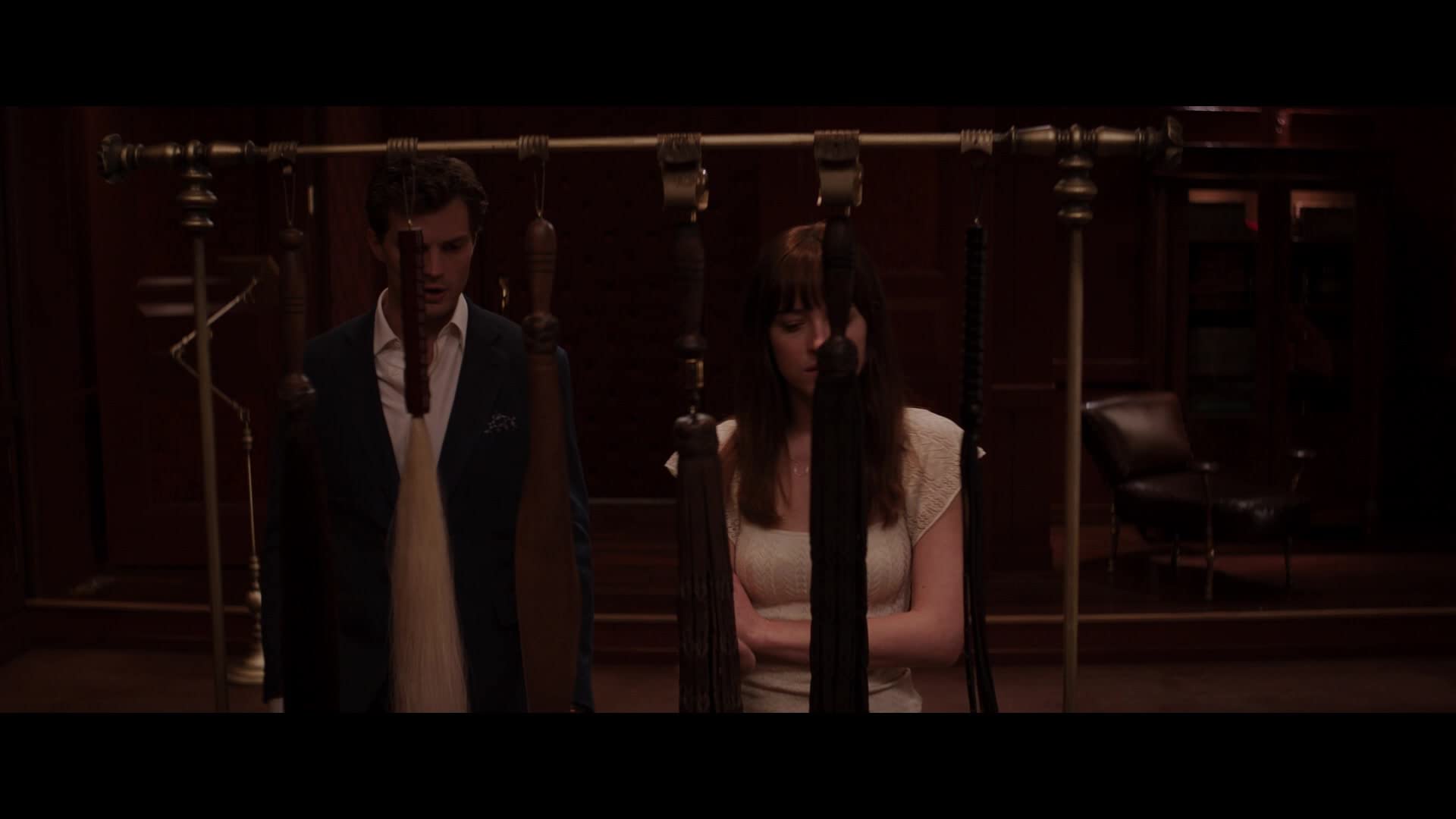 Fifty Shades knocked BDSM into the minds and bedrooms of millions of readers worldwide. However, real BDSM practitioners ultimately took issue with Fifty Shades' abuse-tinted representation of their community, specifically Grey's trauma-motivated drive to Dom/sub dynamics, lack of play etiquette, and controlling tendencies. They were worried for their reputation but also, in parallel, for the safety of readers who were using Fifty Shades as a how-to guide. Thus, strong backlash from the BDSM community towards Fifty Shades illuminates a new side of romance: the side that can influence reality, not just culture. Increasing conversations are being had about the liberative side of romance fiction. How much research should we do for each story? What happens when we do not do this job adequately? Though BDSM is not a minority community in the traditional sense, as members are not particularly oppressed, this lesson can be brought forward in terms of the physical and psychological safety of readers. When new and exciting experiences are depicted in fiction, readers will want to partake; it is authors' responsibility to direct this formative power positively, to use its magic carefully, knowing what exactly lies in their hands.
The History of BDSM and Its Depiction in Romance
In 1785, the Marquis de Sade notoriously published his novel "Les 120 Journes de Sodome," or in English The 120 Days of Sodom, which depicted the sadistic acts for which he was infamous. Almost one century later, Leopold von Sacher-Masoch published Venus in Furs, a story about a masochistic man enslaved by his female lover, originally the German "Venus im Pelz". The depiction of kink in erotica was boosted for good by Pauline Rage's "L'Histoire d'O" in 1954 and its submissive protagonist O.
The history of the BDSM practice itself is a long one. In the 18th and 19th centuries, the Marquis de Sade and Leopold von Sacher-Masoch both lent their names to sadism and masochism—their respective preferences (Lowrey). However, "depictions of whips, orgies, restraints and master/slave relationships" (Allcock) have been depicted in art as early as 4000 BC in Mesopotamian, Greek, and Egyptian cultures. Fast forwarding to more modern times, the first SM organization in the US was founded in 1971, prior to which "the SM community ('the scene') in the United States was underground, and mainly gay" (Newmahr 4). In the 1990s, the rise of the internet allowed for an expansion of the community, especially for straight women and college students: "for the first time, information about SM was accessible even to people who were reluctant to enter a public space and declare themselves curious" (Newmahr 5). Today, BDSM is both an exclusive subculture and the darling of the mainstream, a taboo that fascinates even those would never participate when it appears in popular media.
What is BDSM?
It is very likely that you might have heard the term BDSM, but confused about the concept. If so we are going to give you some interesting insights into what is BDSM and how knowing more about it can help you enjoy better ways of satisfaction.
BDSM is a concept that represents erotic practices of different characters referring specifically to bondage, discipline, dominance, submission and even sadomasochism and other personal desires. This is an umbrella term that describes a wide range of interpersonal behaviors and psychological conditions coming to life practically being practiced by BDSM communities across the world.
BDSM mainly refers to some interpersonal behaviors covering a range of intentions and attitudes conveyed by the abbreviations B for Bondage and Discipline, D for Dominance and Submission and S/M stating Sadism and Masochism.
In simple words, BDSM refers to the imaginative and intense desires not necessarily sexual but mental connections for satisfying inner desires.
BDSM, Mutual Consent & Dolls
There is indeed a role play of dominant and submissive characters where the dominant has to instigate his personal desires over the submissive partner. In this case, the dominant partner takes psychological control over the submissive and intensify their desires in quest to find real pleasure.
These two characters are often expressed in different roles such as; Cross dressers, body modification, animal-role players and others.
The concept of mutual consent is highly remarkable in case of dolls. BDSM Sex Dolls are in a state of all time mutual agreement with their owner and comply with the demands of their owner. It is an added advantage in case of sex dolls as all these dolls are ready for an adventure whenever their owner feels to have sex with them.
BDSM Tools
BDSM Tools are different instruments made of leather or other reliable materials in order to achieve a particular sexual goal or position your partner in a specific way. We are now going to give you a detailed view of some of the TOP BDSM tools used or associated with BSDM Sex Dolls to help you understand better and make a good decision that can fulfill your desires.
List and descriptions of some of BDSM Tools:
Handcuffs

Handcuffs are used to restrain the limits of hands of your partner and are usually made of skin friendly material. These are generally used in basic as well as advanced BDSM practices to let the master feel at ease and restrict the submissive partner.

Rope Bondage

Rope bondages are the most widely used restraints that can be used in any creative way with no standard limits. There are various types of rope bondages made of hemp, nylon, silk, polyester or even bamboo. It can be used to restrain any part of the body.

Spreader Bars

A Spreader Bar is basically a rod that can be used to keep the arms or legs parted at your desired distance. This makes your sex partner more vulnerable to you. This can be very fulfilling and highly arousing state that allows you to take greater control of your partner.

Collars

Collars are unique tools that can be used in BDSM Pet Play. This play is intended to represent the partner as a pet or owned by the dominant. But there is no strict rule to the meaning that it can illicit in your mind. But as a general rule it gives the display that the submissive dolls has been owned by the dominant and now she is following every single order.

Blindfolds

Blindfolds are bondages used to limit the partner's ability to see for a specified amount of time during sexual intercourse. This makes the wearer highly sensitive to touch and sexual signals because it increase the curiosity and a better sensual taste to the master. It gives confidence to the master and a greater sexual arousal.

Ball Gags

Gags are made of pliable materials that are held in the mouth to restrict the ability of submissive partner to speak. It simply gives a greater sense of control and physical power.

As we can see the use of these tools is intended to achieve a particular goal that can make the process highly satisfying. But there are always some risks associated with the methods of BDSM which we are going to discuss in greater detail below.

Whips and Floggers

Sexual whips come in many shapes and sizes, but they all have two essential parts: the handle and the tails. The softness/stiffness of these "tails" varies depending on the material; nevertheless, the most typically encountered materials include leather or suede (for softer feelings), whilst bamboo and synthetic fibers provide a harsher impact experience over a greater area (also known as "flogging").

Bondage Tape

Bondage Tape is a low-cost alternative to rope or other forms of restriction. It simply sticks to itself, so there is no risk of this adhesive getting on your skin or causing discomfort when worn for extended periods. Bondage tape is frequently used as lingerie decoration due to its comfort! Granted, this isn't heavy-duty restraining material designed to bind someone securely, but it can still do the job rather effectively, depending on the scene you're trying to portray.

Wartenberg Wheel

A Wartenberg Wheel is not required BDSM equipment, but it does offer an interesting dynamic, especially when applied lightly on places like forearms, stomachs, and backs! This wheel has several blades that can be heard touching flesh and leaving behind little prickly sensations that some describe as highly delightful! Skilled players may discover immense satisfaction in combining different intensity levels with tickling sensations from feathers, pinwheels, and other entertaining stuff.
Hazards of BDSM
BDSM Practices are highly aggressive practices that involve the use of tools and imaginative desires to inflict a behavior on your partner and that is why it is a highly sensitive practice. Although there is consent and mutual agreement between both the dominant and submissive partner, there are always risks associated which are:
Violence
While BDSM practices are highly organized and there is always the factor of mutual consent, it can turn into violence during the practice. The dominant may sometimes have a lower control of his acts due to extreme pleasure, psychological conditions, mismanagement or accidental injuries on the skin. There has been a history of patients rushed to hospitals due to BDSM.
Expectation
BDSM requires both characters to arouse the other with extreme sensational feelings that can lead to higher satisfaction. It is often seen that one partner might not be able to satisfy the other due to various reasons which can leave a gap and one partner might not be as satisfied as the other.
Disgrace
Some people regret their acts after they have done it due to the fact that they feel guilty. This is not always the case but in some cases fantasies can make someone cross his limits which might be fine during sex but regret it later. This can often lead to disgrace and feeling judged.
Discomfort
While the two are busy having intense sexual activities, one partner might feel restricted or less comfortable than the other due to anxiety or fear of inflicting pain on the other. This can lead to disturbance in psychological state and may reduce the efficiency. In such a case, people often avoid being over-expressive.
Now, when the practice of BDSM in real human relationship has such devastating cons, what can we do to minimize the risks and opt for the same levels of satisfaction? One solution that many people find lucrative and satisfying is the use of BDSM sex dolls. Let's discuss it in greater detail.
BDSM Sex Dolls
BDSM sex dolls are the representations of those characters making it possible for people to have a submissive partner in their life. BDSM Sex dolls are basically characters designed to play a role as a submissive partner that follows all the instructions of their master in order to achieve intense levels of satisfaction.
BDSM Sex Dolls are basically different anime, fantasy and real world characters of different origins that have BDSM tools like handcuffs, rope bondage or collars. This gives a sense of heated arousal allowing the master to inflict his will on the sex doll. The facial expressions and general attire of BDSM sex dolls shows that they are designed for people who are looking for BDSM practices.
Health Benefits of BDSM Sex dolls!
BDSM Sex Dolls are adding great value to the lives of people with sensual imaginative characters allowing people to experience better levels of sexual satisfaction. During a sexual intercourse with a BDSM Sex Dolls, dopamine and serotonin are released and due to this cascade of mood amplifying neurotransmitters, feelings of happiness, joy and tranquility are experienced by the people. This leads to mental well-being and a person feels well.
Increased Intimacy
Adventure and finding new horizons of sexual satisfaction is a long standing quest by humans. A BDSM sex doll gives the necessary freedom to go beyond normal human limits and show any aggressive behaviors to satisfy ourselves. The feeling that you can tie someone hands, cover her eyes or make her fulfil any of your fantasy may not be as comfortable with a real human being as it requires higher levels of trust and endurance, but a BDSM doll is all ready for the feat and you don't have to experience any mental pressure. This increases the level of intimacy and improves the course of sexual desires.
Reduces Anxiety
It has been observed that BDSM sex dolls are a source of extreme pleasure and hence reduce the levels of anxiety because the sex drive is more aggressive. You don't really have to worry about the outcomes of your aggression during sex which promotes the blood flow leading to an altered state of consciousness. This reduces your anxiety and allows you to sleep better.
Psychological Stress
Experiments show that engaging in BDSM activities can greatly reduce cortisol levels in the body. This is due to the fact that BDSM sex dolls cannot judge you, they do not expect from you and you feel mentally relaxed with little to no psychological stress.
Conclusion
We have gone through the pros and cons of having a BDSM relationship. But a BDSM sex doll seems to have more advantages, peace of mind, satisfaction and happier results. This enables us to evaluate why a BDSM Sex Doll is a much better choice that actually looking for a BDSM partner which can sometimes make it troublesome. There is indeed a great room for sexual satisfaction and intimacy while you are in bed with a BDSM sex doll that lets you feel mentally and physically relaxed. She lets you enjoy with all the potential you have in your nerves.